Motorola DROID overclocked to 1.1GHz
This article contains unofficial information.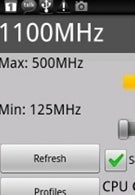 The guys at AllDroid have done it again. This time, they have overclocked the DROID to a top speed of 1.1GHz. At that rate, the device was faster than a stock model of the Nexus One which comes with a 1GHz Snapdragon processor under the hood. The testing set the DROID's processor to speeds of 800MHz, 900MHz, 1GHz and 1.1GHz. The DROID was deemed to be most stable at 800MHz-900MHz. 1GHz was tested for just 5 minutes and 1.1 GHz was unstable. The DROID comes out of the box with a TI OMAP 600MHz chip underclocked to 550MHz.
Motorola DROID Specifications
|
Review
source:
AllDroid