Motorola CN620 – dual network WLAN/Mobile phone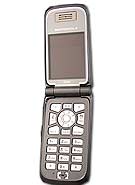 The FCC has approved a new mobile phone from Motorola – the CN620.
This is not the first device from the company that support both GSM and Wi-Fi, but it is the first one that can hand-over an active VoIP call to GSM via Wi-Fi (WLAN), when you travel beyond the WLAN coverage. Vice-versa, only "PBX anchored" calls will continue when moving from GSM to WLAN.
The approved prototype supports 850/1900 MHz GSM, but the final product should support quad-band GSM operation (850/900/1800/1900 MHz) plus all major Wi-Fi standards – 802.11a, 802.11b and 802.11g.
Motorola CN620 is a flip phone, supports Push-to-Talk, has a small external display and large internal, basic PIM, web browser and it clearly aimed at the corporate market.
CN620 comes pre-loaded with movianVPN™ Certicom VPN client. Based on the IPSec standard, movianVPN™ offers secure wireless access to corporate network resources. You can use movianVPN™ free for 30 days.
Full specifications and features of the new Motorola CN620 can be found at PhoneArena.com