Motorola CHARM sees a drop in price from $74.99 to $49.99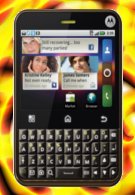 Although it may not be regarded as a substantial drop in price, T-Mobile still nonetheless reduced the price of the Motorola CHARM by a mere $25.00. Launching with an on-contract price of $74.99, we now see the unique looking Android powered smartphone at a healthy $49.99 – which does still look good on paper; especially at that price point.
Naturally, the pricing is good for both new and existing customers who have a qualified upgrade. At $49.99, the Motorola CHARM might rely on its charming looks and cheaper price point to really catch the wandering of eyes from customers in the market of buying a handset. However, it's hard to say why the handset is already receiving a reduced price, but maybe it'll be able to muster up some decent sales now that it's better priced.
Motorola CHARM Specifications
|
Review
source:
T-Mobile