Motorola A668 intros Finger Writing Recognition (FWR) keypad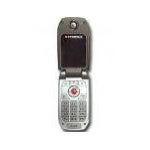 According to recent FCC filing, Motorola has developed technology where the phone's keypad serves dual purpose – ones as a regular numeric keypad, and twice as a hand-writing surface. The new technology feat is called FWR or Finger Writing Recognition. It enables you to scrawl on the sensible keypad with finger instead of pen. The new function allows you to directly write English in lower or upper case on the sensible keypad by a touch of finger.


In addition to FWR, the Motorola A668 feature mega-
pixel
digital camera with video capture, tri-band GSM operation (900/1800/1900), full range voice functionalities, dual color screens and a flash which judging from the photos looks more like a regular stand-alone camera flash then to a LED flash used in most phones.