Motorola A630 details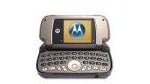 You want Bluetooth, full QWERTY keyboard, JAVA, 65k color display, plus externa display, plus external keypad? Quad-band is also desirable? VGA camera and MP3 player? And of course only 3.5 oz? Well you got all of those with the new Motorola A630.
FCC has approved the new Motorola A630 phone. The successor of V100 and Accomplil 009 has many improvements like:

65k color TFT
Bluetooth
Dual keyboards - full QWERTY plus external phone keypad
WAP 2.0
J2ME (MIDP 2.0)
VGA (640 x 480) camera
It is expected the device to be available from T-Mobile USA and Cingular Wireless.
Read our Artcile about Motorola A630 or view its full specifications.