More info on Verizon's Storm2 release date
This article contains unofficial information.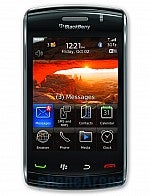 Just earlier this week we
brought you information
that the
RIM BlackBerry Storm2
was showing in Verizon's system with an October 21st release date. Now we have more information confirming the 10/21 date, but also instructing stores to place merchandising material out by closing on the 20th. These will include a Promo Stand, What's New Wall Display, Window Signs, Inside Posters, Kiosk Signs, Outside Yard Signs, and Banners. So it is safe to say that Verizon will be going all-out to make sure people know the Storm2 is in town, but with Microsoft's Windows 7 being released on the 22nd, we wonder who will get the most attention.
Thanks to NomadA32
BlackBerry Storm2 Preliminary Specifications
|
Preview