More Palm Pre live photos and an unboxing video posted
9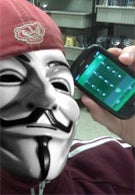 Some more spicy live images of the
Palm Pre
have popped around the web. Looks like we have a free-minded individual that has decided to share some photos of him and the Pre. Apparently, his face has been hidden by Engadget, in a desperate attempt to save him from losing his job. While imaging your face next to the Pre is a cool thing, we really do not think it is worth the risk.
What kind of arouses our curiosity is the phone looks tiny in the pictures, while the one in the unboxing video you can watch below seems significantly larger. Now, sizing up the phone holding it in our own hands will definitely make for a thrilling experience… However, you can still compare the Palm Pre with other popular phones using our
Size Visualization Tool
.
Palm Pre Preliminary Specifications
|
Hands-on
source:
Engadget
and
DailyMobile