Monster's limited luxury smartphone chargers and headphones on sale at London's Harrods
7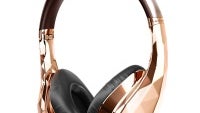 Monster, purveyor of ratherexpensive electronics, has unveiled a collection of 10 PowerCard smartphonechargers, five made of 24K gold and five of platinum. Each chargerhas an individual number and ships with a special "presentationcase". Well, you weren't planning to carry one with you on thestreet, were you? Though, we have to admit, that would have beenimpossibly #swag.
The golden variant retails for $1992 (£1,200),while the platinum one goes for $2158 (£1,300). They fit in a walletand carry a 1650mAh charge, which is enough to juice a smartphone indire situations, and about 1350mAh less than what the first chargerto pop up in our Amazon search offers for around $1979 and $2145less, respectively.
The luxury chargers are availableexclusively at renowned British upmarket store Harrods, until April11. On your way there, you can pick up Monster's DiamondZ headphonesin a special rose-gold color scheme, too. That would be only $415(£249.95) a pair.
via Pocket-Lint