Minor changes made to Windows Phone 7?
This article contains unofficial information.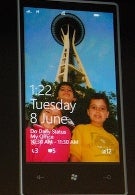 Pictures taken of Windows Phone 7 at TechEd 2010 show that some minor changes have been made to the software. Right away, you might notice that the gigantic size of the print on the lock screen-so big that Mr. Magoo could read it-has been reduced in size. Not only does the new size look a lot better, it also makes room on the display for longer dates. There are also new icons in the live tiles and the whole OS is said to be "more complete and responsive" which points toward an imminent release to developers of devices loaded with Windows Phone 7.
source:
istartedsomething
via
PocketNow
,
flickr