Minimalistic DIY iPhone/iPad/iPod stand combines design with practicality
8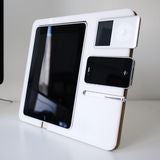 When Andrew Kim was working on his project, he probably did not expect to become popular among online communities of DIY enthusiasts and Apple-devoted fans with his custom iPad/iPhone/iPod stand. Claimed to be among the best hand-made "iDevice" stands ever,
Polyply
, as Andrew named it, has been meticulously crafted out of milky-white acrylic plastic and birch plywood with the goal of being just as minimalistic as Apple's gadgets are.
Andrew admits that it took him some trial and error before he was finally happy with the appearance and the ergonomics of Polyply. The stand is not meant to be a commercially available accessory yet, but who knows, one of its future versions may end up on your desk one day. Good job, Andrew!
source:
Minimally Minimal
via
RazorianFly