Microsoft's My Phone currently down?
This article contains unofficial information.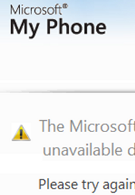 Apparently, the forecast shows a cloudless day for those Windows Mobile users with My Phone. Down for maintenance, the service isn't entirely without function as device-side syncing remains operational. Users have been hoping for more storage and integration with Microsoft products, so perhaps when the clouds blow back in, users will see some changes to the service. For those who can't quite remember, the My Phone service is offered to Windows Mobile 6.x users and automatically backs up data, allows you to share pictures with your social networking sites, lets you get to your contacts and text messages online and helps you find a lost or stolen phone. Hopefully, the guys at Redmond will be done soon with whatever it is that they are doing to the service. Any luck using My Phone? Let us know if you have any functionality on this fine Sunday.
source:
WMPoweruser