Microsoft details its Connected Car Platform integration with Windows Phone, starring Ford SYNC (video)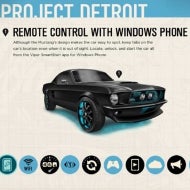 Microsoft's Chris Elliott and Brian Seitz sat with reporters to detail the company's Connected Car Platform as it relates to the Windows Phone integration, and revealed some exciting plans for its future.
They are actually planning to leverage the gesture-recognition of Kinect and voice commands of Tellme, and tied them across Windows 8, Windows Phone, Windows Live, Bing and Azure.
Where was this ecosystem onslaught demoed? Why,
Ford SYNC
, of course, and Microsoft isn't shy to claim that it's exactly this tech that has boosted Ford's sales by 35%.