Microsoft Surface vs iPad events: spot the differences
22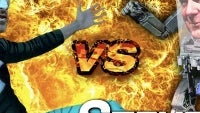 A couple of days ago Microsoft unveiled its Surface tablet and while it said that Surface is not a direct competitor to the iPad, it's clear that Apple's tablet plays a key role in why Microsoft ever decided to build their own tablet.
And it seems that Microsoft executives not only were pushed by Apple, but took a couple of pages from Steve Jobs' original announcement of the iPad from way back in 2010. ReadWriteWeb's Eliot Weisberg says "something about it felt familiar."
Just skip to the video below, and you'd see how much similarity there is in Microsoft's choice for words about reimagining the tablet, the whole sit and relax with your tablet thing and others. We wouldn't say it's blatant copying, but it seems Microsoft were inspired by Apple, don't you think?