MetroPCS offers unlimited international calls to 100 countries for $5 a month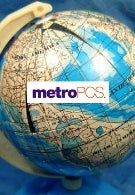 MetroPCS announced today that they will offer their customers unlimited international cellphone calls to over 100 countries for just $5 a month, becoming the first North American carrier to offer such a plan. "MetroPCS is eliminating the worry of high international calling fees, counting minutes and dialing a connecting number, typical of traditional calling cards. With MetroPCS' international calling, consumers are truly unlimited now more than ever," said Roger D. Linquist, the carrier's Chairman, CEO and President.
MetroPCS offers unlimited monthly service with plans starting as low as $30 and running no higher than $50 monthly. Those using the $40, $45 and $50 plans can add the international service for just $5 more per month, including family plans. To more information on the countries covered by the unlimited international calling plan, you can visit any MetroPCS location or visit the web site at www.metropcs.com.
source:
MetroPCS