Mario Lopez entertains Kim Kardashian with his BlackBerry Torch
20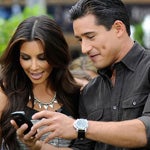 Actor Mario Lopez, who was spotted several times in the company of the beautiful Kim Kardashian, this time was caught on camera entertaining her with his BlackBerry Torch.
It is not sure what the actor, famous with the sitcom Saved by the Bell, is showing to Miss Kardashian, but his facial expression definitely shows that he is more than proud with it. Kim on the other side looks impressed by the situation and the RIM product, but it is good not to forget that the two of them have professional acting experience.
If you have any ides what is on the BlackBerry Torch display at the moment the picture was taken, do not hesitate to leave your comment below...
source:
BlackBerryOS