Make your own custom wallpapers with Tapete
0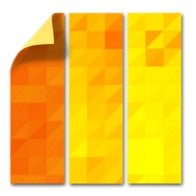 With 29 unique geometrical shapes that can be painted in every color imaginable, and alignment settings galore, the new Tapete app lets you e the master of your homescreen background by creating beautiful custom wallpapers.
That's precisely what Tapete means in German, which is the homeland of the developer, and you can set whatever you concoct with the available multiple options as the default wallpaper to preview on the spot.
Alternatively, the images you paint can be shared as greeting cards of sorts with your friends. Tapete has a very easy to master interface, and you will be creating and editing basic wallpapers in no time with it. Hello, Material Design, is that you in the background?
Developer

: Malte Peters

Download

: Android

Category

: Personalization

Price

: Free