Liveblog: Samsung announces new Galaxy and ATIV devices in London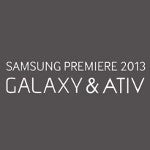 Few moments are more exciting than those right before an event held by a major tech company, as we know that we're bound to see a bunch of cool new gadgets. In this case, we're closing in on the start of Samsung's "GALAXY & ATIV" London event, where we'll obviously get introduced to new Android and Windows devices.
Join us for a liveblog of Samsung Mobile's event and get the details as they come! Stay tuned, as the keynote is scheduled to begin at 2PM ET | 1PM CT | 12PM MT | 11AM PT | 6PM GMT | 8PM CET.
Live event tracker
| | |
| --- | --- |
| 14:01 | And that's a wrap for this relatively low-key event, guys. But stay tuned to PhoneArena, because more coverage is coming up! |
| 13:56 | Aaaand with the ATIV Book 9 Lite, we're now in notebook territory. |
| 13:55 | The ATIV Tab 3 will also have a keyboard dock, sold separately. |
| 13:53 | |
| 13:52 | The ATIV Tab 3 has a more reasonable screen size of 10.1 inches. |
| 13:50 | Now it's the Samsung ATIV Tab 3's turn! |
| 13:49 | And, it also has an S Pen! 'Cause.. why not?! |
| 13:48 | The ATIV Q has a flexible stand mechanism that allows its screen to assume different positions. |
| 13:46 | Oh, the Q is also a dual boot tablet with both Windows and Android. |
| 13:46 | |
| 13:44 | Wow, the resolutionj is qHD+, or 3200x1800 pixels, and that's reaaaally high! |
| 13:43 | The Samsung ATIV Q is a new Windows 8 tablet with a 13.3" screen - a now that's a big tablet. |
| 13:37 | For example, if you're taking a close-up of a person, it switches to Portrait mode, if you're shooting at night - it goes to Night mode. |
| 13:36 | The NX has a cool feature called Smart Mode Suggest - it picks the right camera mode automatically. |
| 13:35 | |
| 13:35 | So here it is, Samsung has just announced the Galaxy NX smart camera, with Android 4.2.2. |
| 13:30 | That's everything you need to know about the Zoom. |
| 13:30 | Let us do you a favor and drop this right here: phonearena.com/reviews/Samsun… |
| 13:28 | |
| 13:26 | |
| 13:26 | They are now rolling a short video to talk up the GS4 Zoom - you know, the dedicated camera with phone functionality. |
| 13:23 | |
| 13:23 | And boom - there goes the GS4 Active into the water, gets taken out, and still works. |
| 13:21 | |
| 13:20 | They are now showing us the Galaxy S4 mini and S4 active, nothing new, really. You can read our reviews at PhoneArena.com. |
| 13:17 | |
| 13:16 | .... As well as all the other devices. |
| 13:16 | VP of European Telecommunication Operations, Jean Daniel Ayme, is now on stage to give us a demo of the Tab 3 and ATIV Q. |
| 13:15 | "We are committed to the diversities of our customers and to all of their different lifestyles." |
| 13:12 | DJ Lee has just announced the Samsung ATIV Tab 3 tablet - a Windows 8 based tablet. |
| 13:11 | He's going through the new S4 range, including the S4 mini, S4 Zoom and S4 Active - an S4 phone for every lifestyle. |
| 13:09 | "We sincerely appreciate the attention the world has given to Samsung Galaxy S4." Mr. Hee is very proud of the GS4 success. |
| 13:08 | |
| 13:07 | OK guys, so after a small of technical problem we're back online, and Samsung President DJ Lee is on stage! |
| 12:49 | Testing... testing... |
| 12:42 | Hey guys, this is Ray here cooking yet another fancy liveblog for you. About 20 minutes left until the start of the Galaxy & ATIV event! |