LinkedIn and Twitter get updated for BlackBerry 10
4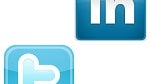 The updates keep coming as BlackBerry 10 works its way into the mobile world and two socially important apps, Twitter and LinkedIn.
Twitter's update brings more content when using Universal Search, so you can see related profiles, tweets, photos and whatever else is relevant when you are searching. Also, content will now always stay "fresh" with automatic caching. The user interface was also tweaked a bit.
LinkedIn's update is quite substantial, integrating your contacts from your device to the app, updating the user interface, and adding the ability to follow and learn about companies. There were also updates to the inbox, the deleting and archiving of messages.
Details from the change logs can be
seen here
. You can update your BlackBerry 10 device for
Twitter here
, and for
LinkedIn here
.
via:
BerryReview