LG's interactive site for its Optimus 7 provides a brief tour of the WP7 handset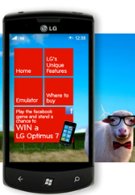 In getting the everyday consumer some hands-on time with their upcoming Windows Phone 7 smartphone, LG just recently launched an interactive site for their Optimus 7 handsets.
Potential owners can get a feel of what to expect with the real thing thanks to the brief tour that shows off the handset in full form. In addition, the site features additional interaction with some aliens and sheep that provide a little comedic relief to the experience. So if reading about the LG Optimus 7 isn't enough for you, then you might want to just check out their new site that'll give you a good visualization of how the handset will fit into your daily life.
LG Optimus 7 Specifications
|
Hands-on
source:
LG
via
WPCentral