LG will use Schneider-Kreuznach lens in its phones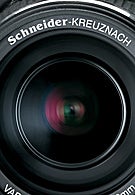 The Korean electronics manufacturer LG signed a contract with the German Schneider-Kreuznach to use their lens in its high-end cameraphones all over the world. This on paper should allow the Koreans to greatly improve the quality of the produced images and will strengthen its name as one of the leaders in the phone multimedia. In our own camera tests, we actually came to the conclusion that the lens used does not matter so much as the image sensor and software performance.
Schneider-Kreuznach are widely available in Samsung digital cameras, but not in their mobile phones, just as it is with Carl Zeiss, which are used in Sony digital cameras but in phones only under the brand of Nokia. LG will use Schneider-Kreuznach first in the Korean CDMA phone "Shine" and then in other of its models around the world.
Source: LG