LG teases a F1.8 camera for the LG G4, bigger cam sensor in tow?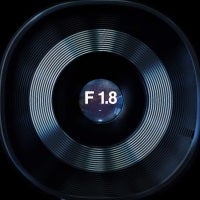 LG is raising the LG G4 hype waves with videos showing different things about the upcoming flagship's functionality. LG started yesterday by introducing the human-centric LG UX 4.0 interface, and today, it followed up by teasing the new camera. Unfortunately, teasy LG won't reveal much details for the anxious among us, but it does advertise a F1.8-wide aperture. This is close to the Samsung Galaxy S6's F1.9 aperture, and we expect an overall improvement in light absorption and photo quality thanks to this.
The LG G4 is rumored to one-up its 16MP sensor-wielding competitor with a 20MP camera module, and by the looks of it, the smartphone sports a much larger lens than the one on the LG G3, pointing towards a bigger cam sensor - one that might be
a creation of LG itself
.
Needless to say, we can't wait to take this mad son of a gun out for a photographic spin! LG will be catapulting the G4 towards the market on April 28th, so it won't be long before we get to learn more about it. If you want to get your LG G4 expectations in line, feel welcome to read
our rumor roundup
.