LG promising three Android devices for 2009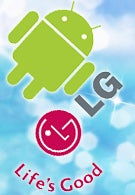 There have been numerous announcements of soon-to-be-released Android handsets over the last few months, and LG is not to be left out of the game. Chang Ma, vice president of marketing strategy for mobile communications at LG, stated in an interview with Dow Jones Newswires that LG would release three Android handsets in Q3 and Q4 of this year and that more would come in 2010.
We don't have any information yet about what these LG devices will be like; appearance, features, or price; but as this information becomes available, you can rest assured that you will find it here.
source:
Android Authority