LG has sold 20,000,000 QWERTY phones worldwide?
This article contains unofficial information.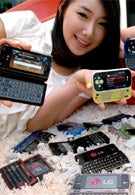 According to Unwired View, the Korean manufacturer LG has announced that it has sold 20 million QWERTY keyboard equipped cellphones worldwide, starting in 2005 with the VX9800 for Verizon. The majority of sales have taken place in North America where such models as the Voyager, enV and the Rumor have been strong sellers. 350,000 LG QWERTY keyboard equipped phones were sold in 2005 with the figure jumping to 600,000 the next year. In 2007, that total increased sharply to 2.7 million units sold and last year, 12.7 million such phones were shipped. With texting and other forms of messaging over cellphones becoming so popular, LG should continue to see huge annual increases in the number of these handsets sold.
source:
Unwired View