LG enV2 is coming tomorrow
14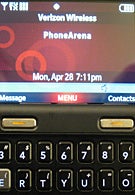 Last week, the LG enV2 was unofficially released through Verizon's customer service and some lucky people were able to get their hands on it. One of our readers managed to be between the first owners of the device and he was generous enough to share his homemade pictures with us.
He also mentioned an April 30th release, which proved right, when
Verizon Wireless
officially announced the phone would be available for purchase tomorrow. For $130 after a $50 rebate and a new two-year contract, you'll be able to buy it in communication stores and at the online site of the carrier.
Thanks for the images
Todd
!
LG enV2 Specifications