LG demos 13x13mm 4G chip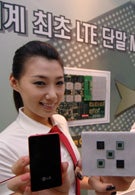 LG has announced that they have developed the first LTE chip capable for a 4G handset.
The chip that was demostrated at LG's Mobile Communication Technology Research Lab in Anyang (Korea) and, in theory, can reach speeds of 100Mbps and 50Mbps in regards to downloads and uploads respectively.
Measuring 13x13 mm, the chip was tested by using a terminal that utilized Windows Mobile to play back a high quality video which resulted in 60Mbps for downloads and 20Mbps for uploads.
With a low cost scenario for upgrading the networks for mobile companies, it only makes sense that such companies are headed towards the 4G era with LTE in their mindset as it is an enhancement on the current WCDMA technology out there.
source:
LG