LG changes model of LX550 to FUSIC, launching it with Sprint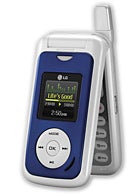 LG decided to change the model numbering of some of its phone to names, making them more personal and easy-remembering. First will be the LX550, which now turns into the FUSIC (standing for FUn and muSIC) that will launch with Sprint on May 28 at a price of $180 with 2-year contract and rebates.
FUSIC is CDMA music-oriented clamshell phone with iPod styled music-keys on the front cover. It has microSD slot for memory expansion and FM radio. The FUSIC will take advantage of Sprint PCS' high-speed EV-DO network and features Power Vision. The FUSIC (LX550) has two color displays, 1.3-megapixel camera (camcoder), Speakerphone and exchangeable housing.
Source: BusinessWire, via Engadgetmobile