LG VX8800 and VX10000
This article contains unofficial information.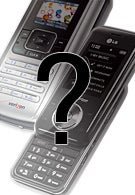 Have you been thinking about purchasing the LG VX8700, Chocolate VX8550, or the enV?
If you don't mind waiting a few months, then you can get the new LG VX8800 or VX10000.Both of these mysterious devices just hit the FCC Approval site this week.
Little is know about them, but rumors have stated the VX8800 is a slider phone, which would make it more of an upgrade from the VX8550, and the VX10000 will be thinner and wider than the enV.
*Update*
Its internal display will be the same as on the enV, but the external one will be larger and touch-sensitive.
Personally, we would like to see a LG Prada in CDMA variant come to Verizon.
source: FCC (
VX8800,
VX10000)