LG VX-8100 will support Bluetooth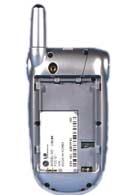 According to a FCC filing from today (Dec.15.2004), LG's next 8000 series model will be Bluetooth enabled. Information about the original VX-8000 leaked at the beginning of the year, but is still not released from Verizon Wireless. The VX-8000 short sport 1.3 mega pixel camera and will be EV-Do enabled, which will give it the theoretical data speeds of around 2.4 Mbps with real speeds of about 300-600 kbps.
The current information about VX-8100 is that it will be CDMA dual-mode phone with Bluetooth support. Judging by its picture and model number, I hope that the VX-8100 will have all the features of the 8000, plus Bluetooth.

| | |
| --- | --- |
| | LG VX-8100 back |