LG Shine comes to AT&T
This article contains unofficial information.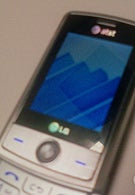 Although AT&T hasn't really offered any higher end LGs, the carrier will try to compensate this with the release of a Shine-variant. The slider is characterized by the metal-like finish which comes in contrast to the glossy phones on the market (Chocolate and others). As it can be seen from the first spy photos, the AT&T variant will redesign the navigation method, trading the 3-way scroll for a circular D-pad or joystick. Considering this is an expensive model, we hope it will be 3G capable.
Still there is no additional information, but having in mind these changes, the AT&T LG Shine may also differ in other aspects to the European one.
Image courtesy of
Gizmodo