LG Prada-like phone comes to AT&T
This article contains unofficial information.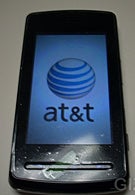 The appearance of the spy photo session ofLG CU920 for AT&T comes as a surprise, because of the strongly remindingPrada's outlook presence of touch-screen and just a few buttons. Most likelythe new LG supports 3G connection, but information about its other features isstill missing. The CU920's way of zooming when Internet browsing reminds the iPhone'sone, but unlike it, the new LG takes couple steps for this operation.
source: Gizmodo