LG G2 hands-on
27
This story is sponsored by LG. PhoneArena's opinions in this article have not been affected in any way!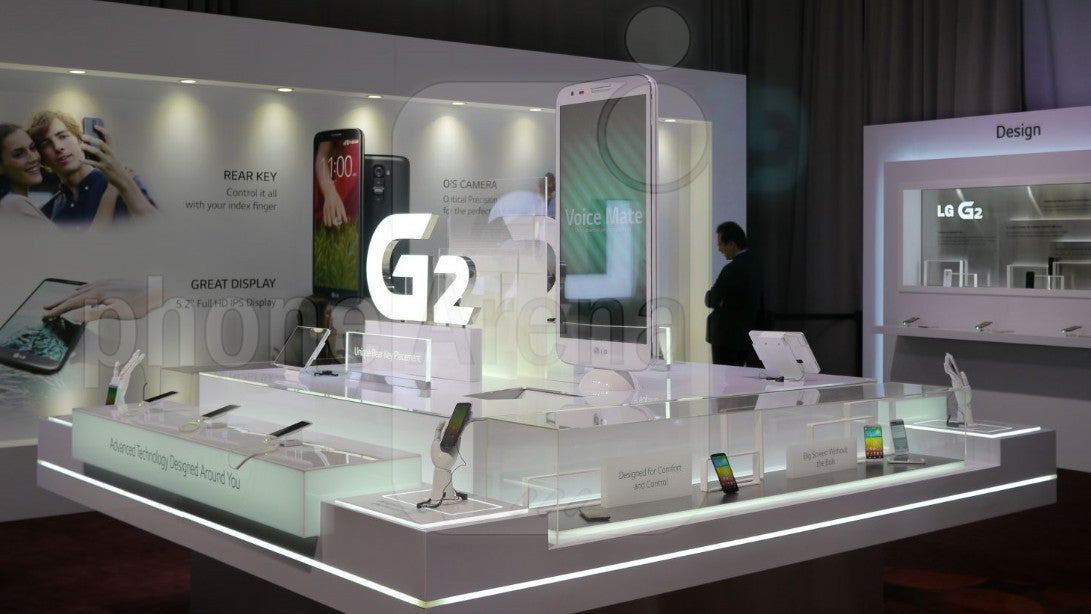 Introduction:
Lots of effort was put into building up hype around the
LG G2
prior to its official unveiling. Instead of keeping its latest and greatest creation tightly under wraps, the company launched teaser after teaser, giving us clues as to what we should expect from its upcoming device. And we're not talking about vague figures and hardware specs, as the
pre-launch promotion of the LG G2 took a different approach
. Over and over, we were being reassured that this smartphone was different from the rest both in terms of design and functionality – inspired by you, by us, by humans as a whole.
Now that the
LG G2 is finally official
, does it live up to the high expectations it planted in the mind of every tech geek? Well, we just had the chance to take the smartphone for a quick spin and we can confirm that it's something to be reckoned with.
Design:
There's simply no way around it, guys – if you want a large screen, you'll have to live with a large phone. Yet to tell you the truth, the LG G2
doesn't feel any bigger than its high-end Android rivals
, most of which sport displays of 5 inches or so. In fact, its maker has done quite a bit to improve its ease of use. The bezel on the left and right sides of the screen, for example, has been trimmed down to a minimum, which is why the LG G2
feels quite narrow for its size
. Then there's the back side of the device, which are tapered along the edges for a tighter grip. The more we hold it, we're astounded by how compact it is for a smartphone donning a 5.2-inch display.
Visually, the LG G2 can't be classified as outstanding. Although it is a member of the high-end smartphone category, its maker has chosen to stick with more
traditional build materials
, such as the plastic its back plate is made of. Almost all of the G2's front side is occupied by the display and since the Android navigation keys are of the virtual kind, there are no physical buttons anywhere in sight. Near its upper edge we see the earpiece, the front-facing camera, and the light sensor.
As for the
power and volume keys
, they are placed at the back of the LG G2, alongside the opening for the camera module. Clearly, this is a totally different approach to what we're normally accustomed to seeing with today's devices. At first, it simply feels rather alien, but the more we actually hold it in the hand, we begin to realize that it's at an
appropriate location
, as our index finger perfectly lands on it in a resting position. Better yet, the placement of the power and volume controls
adhere to both left and right handed individuals
. As for those volume controls, they also act to instantly run the LG QuickMemo and camera apps – by long pressing the up and down volume keys respectively for 3 seconds.
Display:
LG's top-of-the-line smartphones have always been equipped with beautiful, high-resolution screens and the G2 is not an exception. Spreading
1080 by 1920 pixels of resolution across a 5.2-inch diagonal
gives us a figure of
424 pixels per inch
– not the highest we've ever come across, but great nonetheless and more than enough to ensure that everything that's displayed on it looks nice and sharp.
True to the company's traditions, the screen on the LG G2 is made using
IPS LCD technology
, giving us extremely accurate and natural colors even when viewed at an angle. This particular panel stands out with being the thinnest of its class, which has surely helped with reducing the overall thickness of the device itself. On top of that, LG brags with this being the brightest full HD LCD screen to ever grace a smartphone, with a
brightness output of 450 nits
. This feature should translate into good outdoor visibility even on a sunny day.
At the end of the day, it's that near
edge-to-edge
aspect of the display that profoundly stands out above everything else up there – enabling the phone to maximize every inch of real estate. Naturally, it's an impressive thing to see on a smartphone, but considering that we've seen other innovations in the space, such as the Galaxy S4's ability to track our finger over its display, it might not draw in people looking to experience something, you know, different. Visually though, it's an inviting treat!
WATCH OUR LG G2 HANDS-ON VIDEO HERE!