LG ARENA gets video previewed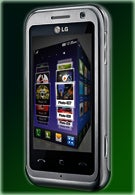 LG's upcoming multimedia phone, the ARENA, has been video previewed in Swedish at DN.Webb-tv. In it, DN.'s technical reporter, Yvonne Edenholm, presents some of the features of the new 3D S-class UI interface that will be used by the handset.
Pushed as "a fully loaded multimedia phone", the LG ARENA will offer some technologically-advanced features, such as Wi-Fi, GPS and a 5-megapixel camera. It will boost a large 3-inch touch-sensitive screen with a high resolution of 480x800 pixels. Expect our hands-on with this multimedia device at the MWC event, which is about to begin this Monday.
LG ARENA Preliminary Specifications
source:
DN.Webb-tv