Kyocera Cyclops music phone for Virgin Mobile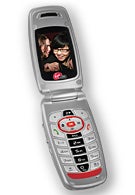 Virgin Mobile and Kyocera Wireless together announced the launch of the new Kyocera K325 Cyclops, based on the K322. Colored in white and red, it is modern-looking phone targeted to the young customers of the carrier, featuring megapixel camera, games, and new music-based TXT tones (music on incoming message) delivered by a contract with Warner Music Group.


The Cyclops is the first handset to offer VAM (Virgin Mobile Audio Messaging) that allows instant messages to be sent by voice instead of keyboard. You simply record a voice message and send it to a number, which can then reply you in the same way.
The Cyclops will be available tomorrow for $100 suggested retail price.
Source: Kyocera