Kingston shrinks 64GB into a pocket-sized USB flash drive for PC and Android devices
8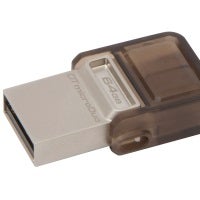 Kingston introduced a flash memory USBdongle that combines the flexibility of both USB and microUSB portswith storage options of up to 64GB in a small form-factor. TheDataTraveler microDuo flash drive can be used on any PC or AndroidUSB On-The-Go compatible device, which means smartphones and tabletsas well.
The dongle seems like a good choice for easy transfer of largerfiles between mobile devices, or having an additional amount of "coldstorage" around. Unfortunately, USB 3.0 isn't supported,so if you want to copy 4K videos left and right, you better armyourself with plenty of patience.
Kingston hasn't announced the pricesfor the different variants, but the product should be up for salesoon. The DT microDUO will be available in 8GB, 16GB, 32GB, and 64GBvarieties. It has been tested with a large list of devices thatincludes flagships by HTC, Samsung, and Sony.
via BusinessWire