Keep your wheels spinning with the Bike Doctor app for Apple iPhone, iPod Touch and Android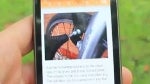 Whether you are an everyday rider, a weekend warrior or an occasional cyclist, it is important that your bicycle be in perfect riding condition. That is why you might be interested in the Bike Doctor app, available for the Apple iPhone, iPod Touch and Android devices. The app is perfect for novices to those who have had some experience repairing their bike.
The download currently contains instructions for 24 common bike repairs and more will be added over time. Having the Bike Doctor installed on your phone is the closest thing to having a mechanic riding with you at all times. The Bike Doctor is $2.99 for the Apple iPhone and iPod Touch, a lot less than paying the local repair store, and is available from the Android Market for $2.81.
source:
DailyMobile