Keep it clean - here are 5 smartphone cleaning products for battling germs
3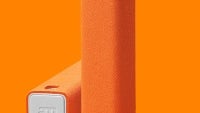 Not long ago, we unleashed the yucky truth upon your unsuspecting senses. Your beloved smartphone is a cesspool of germs, bacteria, and grossly mutated forms of microbial terror barely known to scientists and housemaids of the 21st century! Lurking happily on your Gorilla Glass 3-covered Quad-HD resolution screen are no less than 20 times the amount of bacteria thriving upon the average toilet seat. What is a helpless smartphone user to do against the micro-organic onslaught?
It turns out that the smartphone accessory industry has produced a warchest of weapons and ammunition designed for mass microbial extinction! With this selection of five fine products, every citizen is able to wipe out the microbial threat and render their smartphone into a squeaky-clean, peaceful state. Trust us, this is the next best thing after Qyocera's
soap and water-washable smartphone
, which is exclusively Japanese for the time being!