Jony Ive faces Scott Forstall after the iOS 7 announcement
27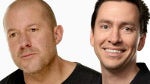 Wouldn't it be fun if we knew the exact words exchanged between Jony Ive and former iOS chief, Scott Forstall, right after
the iOS 7 announcement
, which took place at the WWDC 2013 keynote this Monday?
Well, we'll have to disappoint you, we don't know what's actually happening between these two, but hey, that doesn't mean that we can't have some fun using our imagination! So, when you think about these two, it's clear that the relationship must be pretty tense, right? After all,
Jony Ive replaced Scott Forstall
as head of Apple's iOS software last year, which is not a position that you'd want to be removed from. Having that in mind, let's see what could have happened if Jony Ive had to face Scott Forstall right after the iOS 7 announcement!
Recommended Stories