Jetpack Joyride finally arrives on the Google Play
5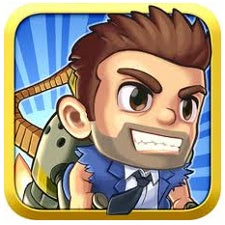 Jetpack Joyride has arrived on Android!
The adventure of Barry Steakfries is finally available not only on iOS, but Google's platform as well and it's absolutely free.
Jetpack Joyride is a game by Halfbrick studios, the creators of Fruit Ninja.
The game is simple in the way arcade games of the past were and equally addictive. You break into a secret laboratory wearing a jetpack. Tap on the screen for liftoff and keep your altitude to avoid obstacles in the way and collect coins. You've got tons of awesome jetpacks, dragon outfits and what not to blast through Jetpack Joyride's virtual world.
Check it out, it's fun.
source: Google Play