It's reported that Gingerbread is living a quiet life in Belgium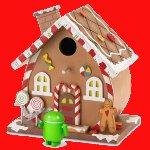 The release date of
Gingerbread
is a little bit like the persistently-rumoured Verizon-branded Apple iPhone - a never-ending saga that's spawning news and hopes, but no end product. Of course, Android
2.3
is coming (well, we have been saying that for a month now) and it seems that a lucky guy from Belgium is tasting the sweet Gingerbread flavour as we speak.
According to the Android developer
Christophe Versieux
, he has found someone playing with his app (
BeTrains Belgium
) who has a user string
Dalvik/1.4.0 (Linux; U; Android Gingerbread Build/GRH14B)
. Whether or not this is the final (release) version of Gingerbread is to be seen, probably
on December 6
, which is the latest of a very long list of release dates for Android 2.3.
source:
Android Central