It's Gingerbread to follow Froyo at the Android house
This article contains unofficial information.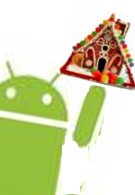 The yummy sweet names of Google's codenames for major Android builds continues itself in the alphabetical list – now stopping at the letter G. Although Froyo has yet to be released, we're now getting the word about the "Gingerbread" codename that was mentioned by Brian Swetland, one of Google's Android Kernel gurus. He has been quoted saying, "This week we're finalizing our move to 2.6.32 for the Android Froyo release, and we'll likely be on .33 or .34 for Gingerbread." Much like what is known specifically about Froyo, which is still next to nothing, Gingerbread is still early in the development stage and won't see anything come out of it for some time. Now that "Gingerbread" is made known, what do we have in store for the letter H?
source:
LWN.net
via
Android and Me