Is your N-One having data problems today?
This article contains unofficial information.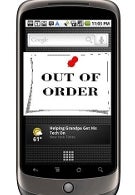 BGR says that it is getting deluged by tipsters with the Nexus One who are telling them that there are apparently data issues with the phone today. Regardless of whose fault this is, the Google-T-Mobile connection is just not working right now, leaving unhappy users with a rather expensive paperweight for the moment. If you are a N-One owner, let us know what is happening with your data connection. Hopefully this is a minor issue that will be resolved quickly.
HTC Nexus One Specifications
|
Review
source:
BGR