Is your BlackBerry wonky? Find out using the BlackBerry Device Self Test Application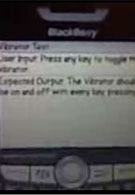 BlackBerry devices have a built in "Device Self Test Application" which is accessible from the home screen by selecting "Options", "Status", then typing in "test".
On a BlackBerry Bold, the application allows you to test a whole variety of items, including the keyboard, LED status lights, and for dead pixels.
While it was reported that information about the test was available courtesy of a Knowledge Base article at the BlackBerry Technical Solution Center (
link
), the link gave us an error message at the time this article was first published.
Use the application with caution! We've tried quite a few of the tests without any apparent ill-effect, but the application does not appear to be intended for use by end users.
source:
BlackBerryNews.com