Is this why New York City is the Big Apple?
35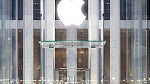 So it's Friday night and well, not everyone has something terribly exciting to do. So some one did some calculating and discovered that if you took the display from every Apple iPhone sold and combined it into one unit, it would be more than 5000 feet tall. To be exact, it would be 5059 feet tall and measure 2846 feet horizontally. That works out to a surface area of 23 acres.
Overall, more than 352 million units of the Apple iPhone have been sold with 217,073,000 of them containing a 3.5 inch screen. The bottom line? Put all the displays together and you would have a structure
wider than Central Park
.
Perhaps this is why they call New York City
the Big Apple
.
source:
CultofMac
via
RedmondPie