Is iOS 7 making you dizzy? Jimmy Kimmel has the answer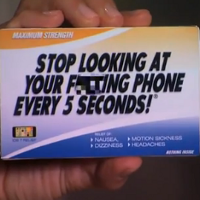 Last month, we told you that the parallax feature and
the way that iOS 7 zooms into apps was causing some iPhone users to get motion sickness
. Those sensitive to the new features were complaining about getting vertigo, nausea, and headaches. Turning off the parallax feature (go to the Accessibility menu in iOS 7 and choose "Reduce Motion") will help if that is the issue, but you can not eliminate the zoom feature.
There is another solution, proposed by the writers of the Jimmy Kimmel show who created a mock commercial for a new product designed to stop the
motion
sickness. We won't give it away, but we will tell you that the best part comes at the very end of the "ad" so don't turn your head from the screen!
source:
JimmyKimmelLive
via
CNET