Is T-Mobile going to send new batteries to G1 owners?
This article contains unofficial information.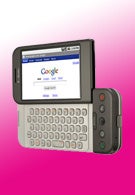 The first Android phone has been known to have a shorter battery lifespan than some of the newer smartphones on the market. Speculation has arisen that T-Mobile USA will try to get the phone to break its filthy A/C addiction by mailing a new battery and cover to those who have purchased the G1 over the last few months. The replacement battery is rumored to be 1400 mAh which would be a 20% improvement over the original one.
If you own the phone and are charged up about increasing the battery life of your device, remember this is all just speculation for now.
source:
GAB
via
BGR