Intel to add Nokia to their list of customers?
This article contains unofficial information.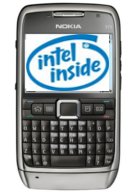 Bloomberg is reporting that Nokia mightbe looking to Intel to be their supplier of processors on theirmobile phones. No official statement from either parties except thatan unidentified source states Intel will schedule a call about an"important announcement" with Anand Chandrasekher who is thesenior vice president of the company's ultra-mobility group. So Intelmight be looking to gain sound ground in the mobile world hopefullywith the partnership of the world's number one sales leader in mobilephones. If all goes according to plan, Intel will solidify itself andmake its mark in the mobile world with this deal. More news will beexpected to come during Tuesday's conference call.
via Bloomberg