Install BlackBerry on a Windows Mobile phone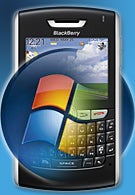 RIM BlackBerry will offer a new software application suite for select devices based on Windows Mobile 6. It will provide virtual BlackBerry experience over the Windows Mobile environment but will act just like a normal third party application. The suite supports BlackBerry email, phone, calendar, address book, tasks, memos, browser, instant messaging and other applications developed for the BlackBerry platform. Devices running the BlackBerry application suite will be able to connect to BlackBerry services via BlackBerry Enterprise Server as well as BlackBerry Internet Service.
This means that one will be able to simulate a BlackBerry on his or her Windows Mobile 6 smartphone, but still keep its positive sides, as the BlackBerry suite will be just a single application and not something that replaces the Windows OS.
source:
RIM BlackBerry