Infographic shows cell phone radiation fear is largely overblown
7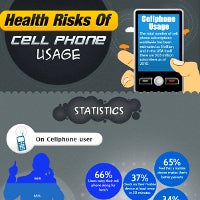 Rumors about cell phone usage causing cancer and other unpleasant side effects
turned out to be greatly exaggerated
, which doesn't mean there aren't downsides from excessive usage of mobile handsets.
The infographic below aims to display in an easy format the results from the Interphone Study - the largest of its kind, with 13 countries participating - as well as other independent research, like Denmark matching cancer cases with cell phone bills with no direct correlation found between spending hours on the phone and glioma or meningioma cases.
There are other interesting findings from these global cell phone studies, like 65% of people feeling that the devices make them better parents, while a full 32% of us using them while driving, so check out the numbers below.