Info on some hot upcoming Samsung phones
This article contains unofficial information.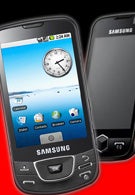 We have just received great news regarding a couple of Samsung's hottest upcoming handsets. The information coming from our own sources has it that, first, the Android-powered i7500 will be called the
Samsung Galaxy
not only in
France
, but in the whole world. The second piece of insider info tells us about the Samsung Cubic S8000, which is believed to be running on Android too. Well, bad news for all smartphone users, as the S8000 will be a regular feature phone, called the
Samsung Jet
.
Samsung Galaxy Preliminary Specifications
Samsung Jet Preliminary Specifications
Thanks go to our source!
If you have some interesting info that you'd like to share with us, feel free to
Tip Us!