Increased orders keep the assembly lines running for Taiwan's 4G smartphone panel manufacturers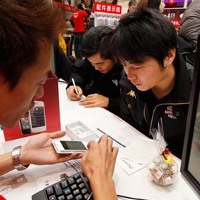 Assembly lines continue to hum in Taiwan as the country's 4G smartphone panel manufacturers continue to benefit from strong smartphone demand. The increase in orders is taking place for smartphone panels of 5 inches and 5.5 inches. The majority of panels support HD resolution and are for vendors based in China. The vendors hope to sell 4G smartphones with 5 inch or larger screens for approximately 1000 Yuan ($163 USD).
China is expected to have a surge in shipments of 4G LTE smartphones this year, after the Chinese government licensed carriers in the country, allowing them to turn on their LTE pipelines. The number of 4G smartphones shipped into China this year is expected to soar as much as 16 times from last year.
source:
DigiTimes